WiseChip Receives Qualified ISOTS 16949 Certificate. & ..
2011/4/29
Dear WiseChip Partners,

WiseChip Receives Qualified ISO/TS 16949 Certificate

WiseChip (WSI) receives qualified ISO/TS 16949 certificate in April 2011 while WiseChip headquarters office and factory both are eligible to obtain this certification in order to forward the auto industry supply chain standard to create a new milestones. ISO/TS 16949 is the world's leading automotive standard. It combines a series of quality standards for auto manufacturers and original equipment manufacturers (OEMs) in a single certification.
The achievement accelerated WiseChip has made great strides towards quality assurance of worldwide automotive market. This is a grand accomplishment as WiseChip provides the best quality management system is to fully meet and comply with the requirements of automotive customers, after that, WiseChip builds continuously a world-class quality standard in order to as the best select for customers.
Currently, WiseChip has a wealth of manufacturing experience and strict quality control system, we anticipate to becoming the global brand automotive of qualified suppliers in the near future.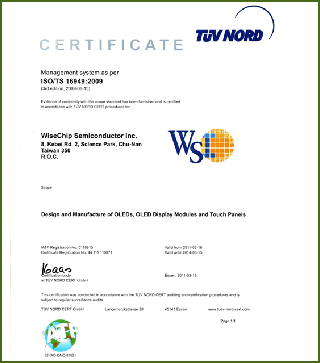 WiseChip Participates in Display Taiwan 2011.



WiseChip (WSI) will attend Display Taiwan 2011 exhibition which will take place in, Taipei (Nangang ), the capital of the Taiwan. In the meanwhile, WSI will showcase a series of new products such as Character type OLED, Graphic type OLED and so on. WiseChip, the world's Top 1 and worldwide largest leading PMOLED solution provider in 2010 who meets global consumers demand and brings unprecedented level of performance to customers.
The exhibition will be held in Taipei, Taiwan from June 14th to 16th (3 days). For such a energetic and prosperous industry, the "Display Taiwan" exhibition is the only exhibition presenting the value china of the multinational FPD industry in Taiwan. During the Display Taiwan 2011 show period, held by PIDA, SEMI, TAITRA and TCA. Display Taiwan not only shows the strong performance of the Taiwan FPD industry, but also provides an ideal promotional platform for global companies.
WiseChip will announce booth number and floor plan in May Newsletter, please visit regularly WiseChip's website for keeping in update the latest information.

Date:June 14th (Tue.) – 16th (Thu.), 2011
Time:10:00am -17:30pm
Venue:Taipei World Trade Center Nangang Exhibition Hall, 1F. ( No.1, Jingmao 2nd Rd., Nangang District, Taipei City 11568, Taiwan )
Display Taiwan 2011:http://www.displaytaiwan.com/

We're looking forward to see you in Display Taiwan 2011.



Back to WiseChip Website news center page.

1、WiseChip celebrates expansion with the release of a new high-performing OLED – Graphic (Monochrome) and Full Color types.

2、2011 New Demo Box.

---
1、WiseChip celebrates expansion with the release of a new high-performing OLED – Graphic (Monochrome) and Full Color types.
(1) Introduction
WiseChip (WSI) launches a series of new standard products – Graphic (Monochrome) type and Full Color type OLED module solutions. All them are standard products, a feature packed high-integration, low power consumption, and, above all, slimmer for these OLED modules solutions with all the latest features powered by WiseChip, one of the premier PMOLED designing and technology makers for PMOLED market. By having the latest features, WiseChip will further strengthen and satisfaction with all kinds of customers what exactly they need in order to meet the huge requirements of customers in highly-competitive market and enables them to control of strict cost at project development stage.
With WiseChip's experienced technical and services team, we deliver our expertise to the designer and to better support global brands. As a result, it will help to establish a healthy industry ecosystem in the display market and explore the market potential in the long run. The following are specification and icon for the new standard product of Graphic and Full Color type OLED.
Type
Diagonal Size
Part Number
Pixel Number
Color
Package
Active Area (mm)
Panel Size
(mm)
Monochrome
0.82"
UG-9639TSWEG03
96 × 39
White
COG
19.372 x 7.858
23.80 x 16.20 x 1.30
Monochrome
1.30"
UG-2864KSWLG01
128 × 64
White
COG
29.420 x 14.70
34.50 x 23.00 x 1.45
Full Color
1.10"
UG-9696TDDCG02
96 × 96
65,536 Colors
COG
19.852 x 19.852
25.90 x 30.10 x 1.300
(2)Superiority
(a) Monochrome 0.82" UG-9639TSWEG03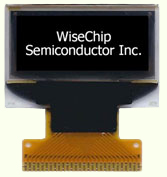 Driver IC內建Charge Pump可簡化設計外部零件成本,大幅提升客戶BOM成本競爭力,並提供超低功耗方案可讓客戶的終端應用達到低耗能標準。
整體模組超薄厚度,僅有1.30mm,適用於超輕薄硬體設備,同時可簡輕量化應用端設備上的設計,真正達到環保節能宗旨。
(b) Monochrome 1.30" UG-2864KSWLG01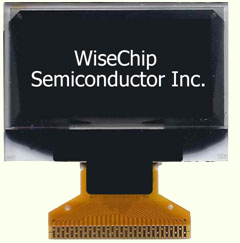 The monochrome OLED 1.30" called, UG-2864KSWLG01, the revolutionary generation of OLED module is a landmark in the PMOLED development technology. As the 1.3" PMOLED is a unique of over 1 inch OLED module which its driver IC enables built-in Charge Pump; moreover, it is superior to any of the other this kind of product available in the market. Therefore, having the outstanding R&D team and professional intelligence symbolizes WiseChip constantly devoted to develop innovative product to conform to market requirement, consequently, WiseChip is proud to be a new benchmark in PM OLED industry.
(c) Full Color 1.10" UG-9696TDDCG02

The full color OLED 1.10" called, UG-9696TDDCG02, the entire module thickness is only 1.30mm for customers who have already adopted full color type OLED solution, can enjoy ultra-slim design for their product applications while having animated effects for a pleasing experience in the exquisite fluency of visual enjoyment.
The new generation of ultra-slim full color OLED module supports its lifetime over 10,000 hours in order to suitable for industrial, automotive, military equipment and so on market application, which means our product portfolio can penetrate into widely application market.
(3)Market & Application
Industrial:Entertainment Equipment (Stereo、Amplifiers), Meter, OA Equipment, Server, POS, Surveillance System Equipment. (Widely Operation Temperature:-40 ~ 85°C)
Consumer:Blue-ray DVD Player, Digital Audio Broadcasting, STB, Digital Video, Multimedia Player, Portable Device.
Communication:Mobile Phone, DECT Phone, Bluetooth, Router, Switch, Modem, Cloud Computing, Network Equipment. PC Peripheral:Storage、MFP、Input Device.
Medical:Medical Equipment/Monitor、Portable Measuring.
Automotive:Dashboard、Car Stereo、Centre Control、Accessory.
(Widely Operation Temperature:-40 ~ 85°C)
WiseChip has a wealth of experience in supporting all kinds of applications and a great of diversity of customers and is a key player to the leading makers in whole PMOLED market. With the advanced creative technology, the company's PMOLED solutions offer a complete product portfolio which makes it easier for customers to enter the market.

2、2011 New Demo Box
WiseChip, (WSI), showcases the new demo box at FPD China 2011 exhibition while many visitors with the enthusiastic response had highly interested in this new demo box. Each demo box can accommodate 2 to 6 different models (0.66 inch ~ 5.50 inch). In addition, it can be customized by customer specify which ones are product models. If you are interested in this new demo box, we welcome you contact with our sales representative. The following is icon for reference.

For more information, please contact us by e-mail here.
E-mail:MKT@wisechip.com.tw