WiseChip Ranked 67th for Deloitte Technology Fast500 As..
2011/12/22
Dear WiseChip Partners,
20th December, 2011 – WiseChip Semiconductor Inc. (WiseChip, WSI) is a one of leading OLED solution provider in the global, today announced that WiseChip has been honored with "Deloitte Technology Fast500 Asia Pacific 2011" by Deloitte Touche Tohmatsu Limited (DTTL), a UK private company limited by guarantee. "Deloitte" is the brand under which tens of thousands of dedicated professionals in independent firms throughout the world collaborate to provide audit, consulting, financial advisory, risk management, and tax services to selected clients. In the Asia Pacific region's top 500 fastest growing firm, WiseChip ranked 67th firm, therefore, WiseChip was recognized by international as WiseChip presented a splendid achievement of high-growth business and pursuit of excellence performance continuously.
The technology Fast500 2011 Winners Report and ranking brings the full list of ranked companies and their growth percentage over three years, as well as a comprehensive look at the Fast Facts defining the ranked companies in 2011. WiseChip achieved a remarkable three year growth figure of 699.863 percent, moreover, WiseChip is only one in Taiwan in terms of dedicated to OLED technology field of as a leading manufacturer in the world and for the first year that WiseChip was awarded the prize. For a number of years, WiseChip serves to increase the visibility of Taiwan's R&D capabilities on the international industry. WiseChip, which has continued to focus on developing innovative technologies over the years, has been a pioneer in technological collaboration between employees and customer partners. WiseChip's dedication is evidenced by the fact that not only has it worked with partners closely, as well as the first enterprise in the OLED industry in Taiwan to support long-term technology service. WiseChip calls on and encourages employees to continuously pursue product and technological breakthroughs and innovations in both the research and development of resources as well as company processes environment. Armed with the company's R&D core strengths, we have also been striving to bring the fruits of Taiwan's technological developments onto the international stage to advance the standing of Taiwan technology in the arena of international ecosystem.
Being selected for the frist year to proud of the accomplishment at Deloitte Technology Fast500 Asia Pacific 2011 is both a tremendous honor for WiseChip and an unparalleled recognition of our achievements. In the future, WiseChip will remain committed to developing resources and environment as it promotes innovation to inspire more R&D potential and technology, thereby advancing the international visibility and industrial competitiveness of Taiwan's technology as a whole. All in all, WiseChip will continue to actively implement the business continuity and responsibility that to win the ultimate goal of tripartite cooperation between company associates, customer partners and eco-friendly.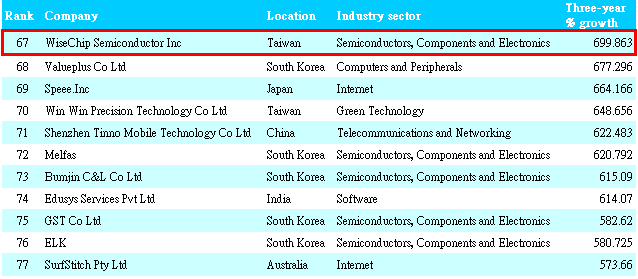 Download Winners Report
.
For more information, please contact us by e-mail here.
E-mail:MKT@wisechip.com.tw