WiseChip Holiday Notification:Chinese New Year..
2012/1/17
Dear WiseChip Partners,
A Happy Chinese New Year to You!
Thank you very much on supporting our business. Even we had gone through very difficult year in 2011 with the consequence of economy crisis around the world countries. Our shipment remains a great result in a highly competitive industry.
Now our Chinese New Year (dragon year) is approaching, we would like to notify our business partners and customers that we will have a long period holiday from 21th January to 29th January of 2012. Our office will be closed during the holiday, factory will stop to make the production, and warehouse will stop to make the delivery. Our sales may not respond for the inquiries that from our customers during the holiday. For the order that placed before our holiday, we will do our utmost to make the delivery before the holiday. The delivery date can be informed from our sales representative and logistic team.
Please note that if customers have rush orders during the holiday, we may not make the delivery on time and we will not be able to make the delivery during our holiday. We will arrange these orders after we come back from this long holiday. WiseChip team will do our utmost to serve you needs.
Best wishes to everyone for the New Year. WiseChip is strongly positioned to deliver new products of PMOLED solution that offer high value and are capable of meeting the evolving needs of our customers in a great diversity of application markets. By offering a complete PMOLED solution that features high-performance, high integration and customizable characteristic, WiseChip continues to help and contribute customers worldwide achieve global brand value for the future.
Happy Dragon Year! 2012 Chinese New Year!
Chinese New Year Holiday Notice
WiseChip will be on holiday from January 21th to January 29th 2012. After the long Chinese New Year Holiday, the office and factory will be resumed to work on January 30th 2012. During the Chinese New Year Holiday all operations and factory will be closed. The following is the shipment schedule for the Chinese New Year holiday. If there is anything we can do to help please do not hesitate to let us know, contact mail:
MKT@wisechip.com.tw
Last shipping date:January 20th, 2012.
First shipping date:January 30th, 2012.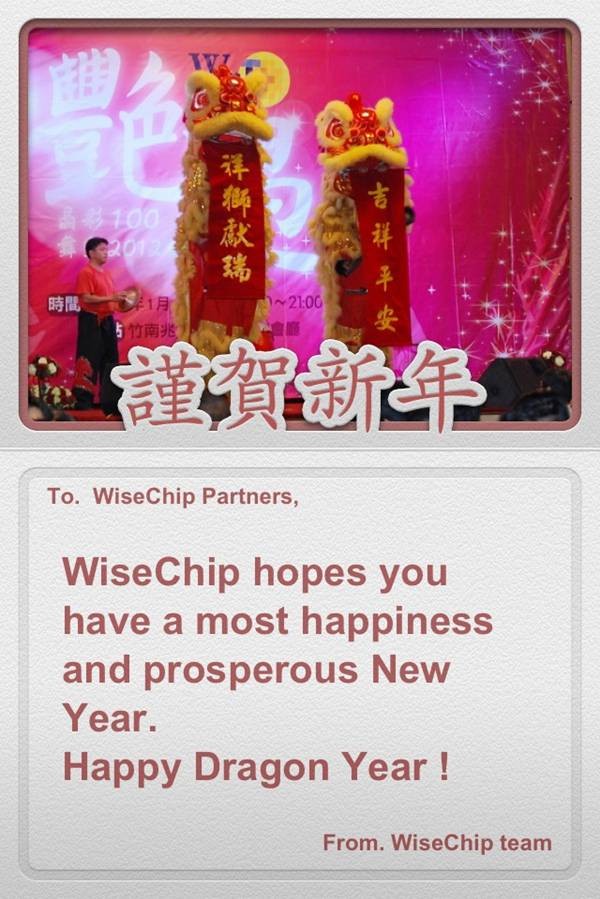 For more information, please contact us by e-mail here.
E-mail:MKT@wisechip.com.tw