WiseChip Showcases Outstanding PM OLED Products at Disp..
2011/6/30
Dear WiseChip Partners,

WiseChip (WSI) presented the new generation of PM OLED products including Character type OLED with multi-colors and Graphic type OLED to provide an ECO environment for our next generation in Display TaiwanExhibition, during June 14th to 16th, 2011. WiseChip thank you for all worldwide visitors to visit WiseChip's booth, while, WiseChip became a sparkling star at the most populous exhibition. WiseChip demonstrates a series of PM OLED products to attract many visitor attentions and interests; moreover, to echo the mainstream of environmental awareness. As a result of WiseChip PM OLED has innate feature of eco-friendly such as its lower power consumption as OLED display without backlight and depends on turn on pixel quantity and brightness. This is why WiseChip proposes that everyone can immediately contribute to save energy and reduce energy by using OLED products.
Taiwan is a leading player of FPD (flat panel display) and no other event reflects this lead better than DISPLAY TAIWAN. As the industry grows, this year 231 exhibitors have swelled the scale of the event 14% larger by taking 630 booths in TWTC NANGANG Exhibition Hall. The success is virtually guaranteed since it is organized by TAITRA (the Taiwan External Trade Development Council, TCA (Taipei Computer Association), PIDA (Photonics Industry & Technology Development Association), and SEMI Taiwan.
As a participant of the energy-saving industries, WiseChip showcases various PM OLED products for using in all kinds of display applications at the Display Taiwan Exhibition, 2011. WiseChip presents a new Chip-on-Glass (COG) PM OLED series to offer a solution that addresses important trend in general OLED replacement applications. Competing to dominating standard low power display of PM OLED, Chip-on-Glass PM OLEDs are predicted to take on a first of all display applications for the near future. The achievement of 2010 year, the shipment quantity of WiseChip has soared to become No.1 PM OLED maker worldwide, even now WiseChip is standing the same good performance for Q1, 2011 as well. All in all, the success of WiseChip accomplishment relies on the cooperation of all customers and partners; meanwhile, to promoted the cooperation shoulder to shoulder between WiseChip and customers. WiseChip enjoys close working relationships between our R&D, Sales and Marketing teams to meet and exceed our customer's expectations in both product offering and technology. Please join us and experience the ECO PM OLED display. The following is icon for reference.

The Success of WiseChip Participates in Display Taiwan 2011.


Global Mobile Phone Vendor Adopts WiseChip PM OLED Product



WiseChip (WSI) thanks for the report by Economic Daily News on exhibition of Display Taiwan 2011, which introduced WiseChip Character type OLED product.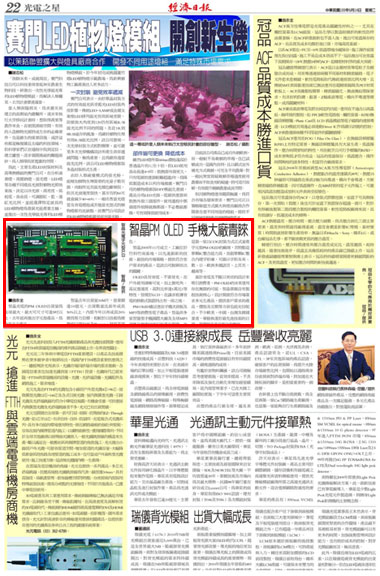 For more information, please contact us by e-mail here.
Email: MKT@wisechip.com.tw