WiseChip Showcases Latest PM OLED and Technologies at F..
2011/3/11
Dear WiseChip Partners

A magnitude 9.0 earthquake hit northern Japan on March 11, triggering tsunamis that caused widespread devastation and crippled a nuclear power plant. WiseChip (WSI) wishes the people and regions affected by the off the Pacific coast of Tohoku Earthquake for the reconstruction of the affected society as soon as possible. We would like to express our heartfelt sympathy to the affected people and at the same time sincerely pray for earliest possible reconstruction of the affected regions.

The Japan earthquake has no impact on WiseChip product and raw material.

Hsinchu, Taiwan, R.O.C. – March 28, 2011 WiseChip Semiconductor Inc. (WSI), a PM OLED manufacturer and a PM OLED solution provider, today informed the current situation of its Japanese supplier after the off the Pacific coast of Tohoku earthquake. The magnitude 9.0 earthquake hit northeast Japan on March 11, 2011 did not cause any instantly significant damage to WSI's supplier which located in Japan area; meanwhile, the capacity of the plant has no impact for WSI's supplier. WSI will continue to assure the supply of raw material from Japanese suppliers. WSI's representative will closely coordinate with customers to keep updating on the latest situation of raw material. If there are any questions please contact with WSI's representative directly.

WiseChip Participation in FPD China 2011 has been concluded successfully!

FPD China – The Premier Event of China FPD Industry
FPD China was sponsored by SEMI; meanwhile, FPD China is the most representative activities in China FPD industry which was held at Hall W1, Shanghai New International Expo Center, China. Moreover, FPD China is the most professional exhibition which exhibits a complete supply chain of flat panel display such as equipment, materials, component parts, high-tech product and so on; and does its the best to further the development of the display industry is a remarkable significance.
WSI devoted to the innovative PM OLED solutions as a professional design company in the display industry. WSI showcases a series of the latest products such as, Character type OLED, Graphic type OLED and so on, which are state-of-the-art OLED technology to attract many visitors attention and interest at WSI's booth. The following photos show a great achievement of WSI participate FPD China 2011.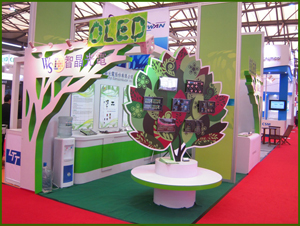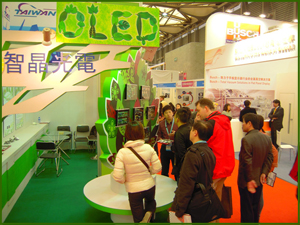 新增字元型OLED標準產品:
| Format Char. x line | Part No. | Color | Active Area (WxH) mm | Character Size (WxH) mm | Pixel Size (WxH) mm | Current 30% on (mA) |
| --- | --- | --- | --- | --- | --- | --- |
| 16 x 2 | UC-1602ASRCG01 | Red | 56.22 x 11.52 | 2.97 x 5.57 | 0.57 x 0.67 | 11 |
| 16 x 2 | UC-1602ALBCG01 | Blue | 56.22 x 11.52 | 2.97 x 5.57 | 0.57 x 0.67 | 11 |
| 16 x 2 | UC-1602ASGCG01 | Green | 73.52 x 11.52 | 3.22 x 5.57 | 0.62 x 0.67 | 11 |
| 16 x 2 | UC-1602AGYCG01 | Greenish | 73.52 x 11.52 | 3.22 x 5.57 | 0.62 x 0.67 | 11 |

Font:English, Numerals, Japan, Europe, Turkey, Vietnam.

News Report:
SEMICON / FPD / SOLARCON China 2011 Daily News - March 16,新品展台:智晶光電字元型產品